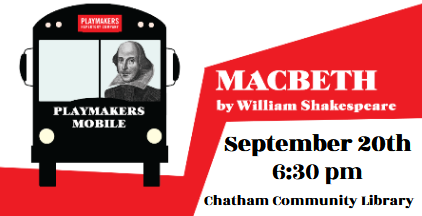 Chatham Community Library will host a free performance of Shakespeare's Macbeth on Thursday, September 20, beginning at 6:30 pm in the Holmes Meeting Room.
PlayMakers Repertory Company will bring their mobile touring company for a sizzling 90-minute performance of the Bard's psychological thriller. In this production, brilliant young general Macbeth has pulled off a glorious victory in battle, but before he can return to King Duncan's court, he encounters a most enticing prophecy. Spurred on by his ambitious wife, Macbeth sets his sights on the throne, but as blood begets blood, he soon learns there is no rest for the wicked.
Through partnerships with area non-profits, community organizations, and local schools and libraries, in locations across the Triangle, PlayMakers presents professional-quality, bare bones productions of Shakespeare plays and more, cut to ninety minutes or less connecting with new audiences in their own spaces, truly meeting them where they live. By revealing theatre to be accessible, relevant, and vital, PlayMakers Mobile builds a new audience for these timeless plays and allows PlayMakers to foster new relationships throughout the region.