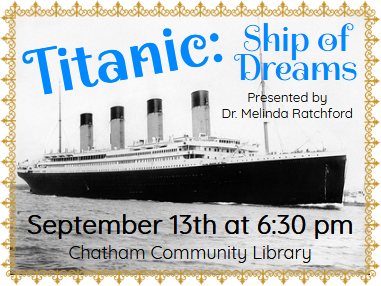 Chatham Community Library will host Titanic: Ship of Dreams on Thursday, September 13, at 6:30 pm in the Holmes Meeting Room. This program will be presented by Dr. Melinda Ratchford, an NC Humanities Council Road Scholar.
Take a glimpse into 1912 and the 2,228 amazing people who boarded the most luxurious and largest ship in the world and sailed off into immortality. Having traveled to all the sites that have connections to the R.M.S. Titanic (Belfast, Southampton, sinking site in North Atlantic, Halifax, NS et al.), Dr. Ratchford takes the audience on a voyage in time to learn about the Titanic, as well as to see her extensive collection of Titanic memorabilia. She will "introduce" listeners to the young Robert Spedden and his Stief bear, Polar; the world's richest man and his beautiful new wife who had to leave New York society under a cloud of shame; and the elderly man and wife who tested the vow of "til death do we part". This program will offer the chance to experience the world of courage, fear, love, and cowardice that is still alive over one hundred years after the Titanic's sinking.
A native of Kannapolis, NC, Dr. Ratchford received her B.S. in Social Science and a Sixth Year degree in Curriculum from Appalachian State University.  She received her Masters in Library Education from UNC-Greensboro.  She also attended UNC-Chapel Hill where she received her Doctorate in Education. Her avocation has been a 60-year interest in the study of the R.M.S. Titanic and her history.  She has given presentations to over 225+ groups on the topic.
This program is brought to you in conjunction with the NC Humanities Council and is free and open to the public.